Massachusetts Institute of Technology
Behind each product there is a developer. If you want to know if something is going to work, 99 out of 100 times all you have to do is see who is responsible for the product. In the case of SizeVitrexx, our team is as good as it gets. We have assembled the finest doctors and researchers the industry has ever seen. So, it should come as no surprise that our formula is unlike any other.
It's all started at world-famous Massachusetts Institute of Technology. The number one rated university in the world according to some polls. Some have Harvard or Stanford as number one and some have M.I.T. as number one. We believe M.I.T. is the best when it comes to research of this kind, but M.I.T. is without question one of the top three universities in the world. The best of the best.
It was two M.I.T. professors and researchers who discovered the incredible sexual enhancement properties of the compound LJ100. Dr. Choykun Rha,a professor of Biomaterials Sciences and Engineering at M.I.T., and her colleague Dr. Anthony Sinskey, a professor of microbiology at M.I.T., spearheaded this long-awaited discovery which is transforming the sexual wellness industry.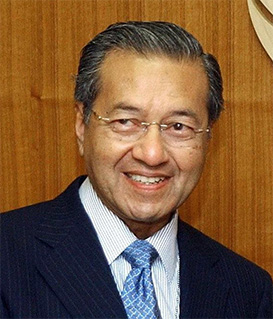 Prime Minister of Malaysia Dr. Mahathir Bin Mohamad
Their discovery was so big that Dr.'s ChoKyun Rha and Sinskey joined forces with the Government of Malaysia to get a United States and worldwide patents on this "super compound" for male sexual performance. If you read the patent you will see the patent is held jointly by M.I.T and the Malaysian government.
This compound (LJ100, a proprietary, superior extract of Eurycoma Longifolia) is so important that a government sees it as a natural treasure and would only allow its export if it was able to be a co-patent holder with M.I.T.Otherwise they would not let this national treasure be exported from Malaysia. As the Prime Minister of Malaysia, Mahathir Bin Mohamad said, "As a Prime Minister and also as a medical doctor I know the importance of the natural treasures indigenous to Malaysia. This specimen of Eurycome Longifolia is truly unique and our association with Massachusetts Institute of Technology is one that we greatly value."
That is where it all started.
But then we added Dr. Wichai Cherdshewasart, a Taguchi Prize winner, and past winner of Ethnopharmacologist of The Year award as well. He is a noted professor and scholar at Chulalongkorn University (the M.I.T. of Thailand). Dr. Cherdshewasart patented a process for the super compound found only in the Lampang Province of northern Thailand called Butea Superba. It is a natural PDE-5 inhibitor.
From M.I.T. to New York University Medical School, the research work done by fames internist Dr. Steven Lamm. Dr. Lamm received his medical degree from New York University and conducted a clinical trial on our third key component of the formula - VasoBlast. ( see the video below). Dr. Lamm is also the author of the best-selling book ever written on male erectile function, The Hardness Factor.
So all three phases of our triple-action VasoDynamic formula were formulated by some of the top researchers in the world. The clinical data supporting our claims, are as solid as the Great Wall of China. We have the best team ever assembled in the field of sexual wellness and male virility, and the life-changing results speak for themselves.
You will be happy to discover that SizeVitrexx is a product that actually delivers MORE that we claim. And it's all possible because a product is only as good as the research and researchers behind the product, and we clearly have the best.